On This Page:
The Band | Album Songlist | Soundfiles on this Website | How To | Credits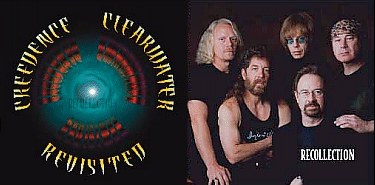 CREEDENCE CLEARWATER REVISITED
LIVE ALBUM

Bonus!: Whole Songs in
RECOLLECTION is Creedence Clearwater Revisited's Live Album. It was recorded over three shows in 1997, November 13, 14, 15 in Edmonton, Grand Prairie, and Calgary . All in Alberta Province, Canada.

Featuring 22 classic CCR tunes from "Suzie Q" to "Up Around The Bend", it´s a double CD over two hours long. Release date in North America is scheduled for June 9, 1998 on FUEL 2000, an MCA Records special products label. European release shall be on SPV Records, from Germany, around the same date.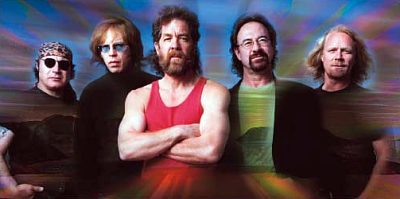 Creedence Clearwater Revisited
CREEDENCE CLEARWATER REVISITED is
(left to right)


Steve Gunner, Keyboards, Harp - Elliot Easton, Lead Guitar - John Tristao, Vocals, Rhythm Guitar -
Stu Cook, Bass Guitar - Doug Clifford, Drums

Disk ONE

Born on the Bayou - 5:19
Green River - 3:23
Lodi - 3:19
Commotion - 2:41
Who'll Stop the Rain - 2:39
Suzie Q - 10:10
Hey Tonight - 2:36
Long as I can See the Light - 3:40
Down on the Corner - 3:08
Lookin' Out my Back Door - 2:44
Cotton Fields - 2:53
Tombstone Shadow - 4:22

Disk TWO

I Heard It Through The Grapevine - 15:44
Midnight Special - 4:14
Bad Moon Rising - 2:18
Pround Mary - 3:24
I Put a Spell on You - 4:36
Fortunate Son - 2:48
Have You Ever Seen the Rain - 2:41
Travelin' Band - 3:29
Run Through the Jungle - 8:07
Up Around the Bend - 3:52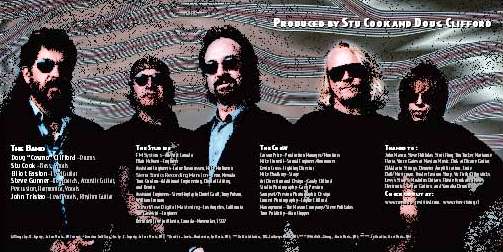 FORMATS - Samples come in two formats, REAL AUDIO and MP3.
REAL AUDIO - Whole songs for 28.8 Kbps modem connection, Stereo. Streaming Audio means you listen to the music without having to wait for the file to download. You get the full song, too.
MP3 - FM (Hi-Fi) quality, Stereo, each one is about 550Kb and lasts about 30 - 40 secs. Download time (on a 28.8 modem connection) is from 3 to 6 minutes.

WHAT DO YOU NEED TO PLAY THE SAMPLES

REAL AUDIO - If not already installed in your system, you need to download the Real Player 5.0 which is free at the Real Audio Website.

HOW DO YOU PLAY THE SAMPLES

REAL AUDIO - you click on the name of the song [Real Audio column] and wait for the Real Player to make the connection and start playing.
MP3 -You need to download the file [MP3 column] and save it to your Hard Disk first. Next, you must open the Player and run the file. The WinAmp/MacAmp player runs like the CD player in your PC. The "search" funcion is at the open/close-looking button on the Players´s faceplate.
On Windows systems, the WinAmp player has an EQUALIZER function. Pressing the little ¨"EQ" button on the faceplate will open a 10-band graphic equalizer. We strongly recommend you use the EQ to get the most from these Hi FI files.
Please note that, while Real Audio brings you the whole song, the MP3 format - albeit a short sample - is of better quality.
The River Rising Web thanks CCRv for letting us use these sound clips.
All images on this page from Recollection (via Stu Cook).

I Heard It Through The Grapevine written by Whitfield-Strong; Cotton Fields written by Hudie Ledbetter; The Midnight Special, traditional, arranged by John Fogerty; I Put a Spell on You written by "Screamin'" Jay Hawkins; Suzie Q written by Hawkins, Lewis, Broadwater; Up Around The Bend, Who'll Stop The Rain, Have You Ever Seen The Rain, Bad Moon Rising, Lookin' Out My Back Door, Written by John C. Fogerty.